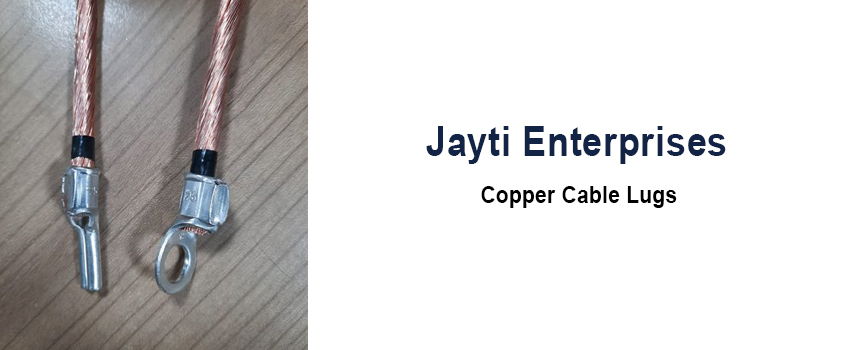 Copper Cable Lugs Supplier Mumbai is actively supplying the best quality lugs to the customer base. The price may vary from one supplier to another.
Copper lugs are just perfect for large gauge apps for grounding and power draw. Each copper lug can be easily soldered or crimped to the wire. The copper lug specifies a burr-free look for an aesthetically pleasing close. An end of the copper lug rightly accommodates the cable using a soldering, welding, or crimping method, according to the kind of lug. Yet another end of the copper lug is joined to a matching terminal or link point using a screw, bolt, or spring clip. Copper Cable Lugs Supplier Mumbai is supplying the best quality of lugs and that's too at the best price.
Application:
Cable Lug is widely used to connect a cable to the device while the other end is joined to the connection terminal. The first end is soldered, crimped, or welded to confirm the secure connection. The second end is joined with a bolt or even a screw. The terminal usage of the bimetallic lugs varies from one industry to another.
Available in Different Shapes and Sizes
They are offered in various shapes, sizes, and materials in the cable lugs along with special configurations. The automation, wiring, control panel, and instrumentation industry needs insulated lugs with different terminals which include a pin, hook, fork, blade, and even a ring terminal. The majority of the devices are connected with copper ring-type lugs for numerous connection ideas.
Types of Lugs
Parallel and Butt is another kind of lug. When two cables require being connected or terminated, these are used. The majority of them are closed-end type, heat shrinkable, butt type, and PVC insulated. Copper cable lugs can even be used as butt and parallel connectors, but it varies on the kind of cable used.
DL terminal lugs are widely used to join aluminum core cables to the aluminum ends of electrical tools. The cable aluminum terminal lug products make use of the friction welding process manufacturing, with high weld strength, resistance to galvanic corrosion, good energizing performance, long service life, etc.
Let's go through the best points about the product here:
• High welding strength
• Long service life
• High electrical performance
• High electrical and corrosion resistance
• Not simple to break, high safety performance
Go through the Installation Process
As per the special installation methods and structural kinds, equipment lugs are separated into two types: compression type and bolt type. The angles in the middle of the double-press down-lead of every kind of wire lugs and the terminal of the electronic tool are separated into 0°, 30°, and 90°.
Copper Cable Lugs Supplier Mumbai not just creates the best quality cable terminations. but also different kinds of cable insulators, cable clamps, cable lugs, and additional cable accessories made of the best materials. Look for the best price by making some comparisons online.